What's in a name? Halsey's 'Manic': Album Review
Updated: Mar 14, 2020
By: Rob Sandvik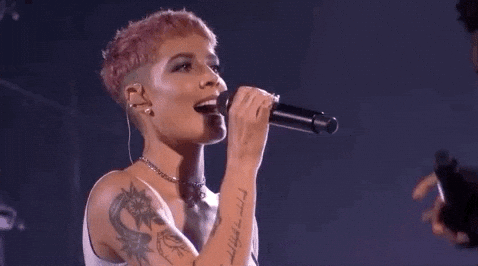 Did you know that Grammy nominee and Music Billboard award-winner Halsey's birth name is Ashley? The twenty-five year old artist's stage-name 'Halsey' is actually an anagram of the more common name Ashley. This may seem unimportant to some, but if you humour me, I promise that this anecdote plays an important role in her latest album release, Manic. The album dropped on January 17th of this year and Halsey has repeatedly claimed that this is her most personal album yet. Even though this is a marketing tool that many artists use to describe their newest bodies of work, Halsey makes you believe her. On Manic's album cover, the title and her stage name are not the only forms of text that can be found. "H3" and "A01" are also purposely included, as they represent Manic being Halsey's third studio album, and first for Ashley. Building on the personal feel, it also helps that the opening track is entitled Ashley. Unlike Manic's predecessors, 2015's BADLANDS and 2017's hopeless fountain kingdom, Halsey has not crafted a concept album. Halsey has found inspiration within her name, as Manic introduces us to the woman behind one of the most successful careers in music. It was worth the wait to finally meet her.
Halsey prides herself on Manic having no two tracks that sound the same, but there are several other captivating aspects to this album besides that one fact. Though making a concept album is quite a feat, Manic, proves that Halsey had previously held herself back from taking greater artistic risks. None of the songs on this album could have fit on her previous full length projects, as their sincerity would have been unmatched. The title, Manic, is also a reference to her mental health. As Halsey fixated on creating the previously mentioned concept albums, she sacrificed her emotional integrity. That is why some of Halsey's best work can be found on Manic. The track "Finally // beautiful stranger" is a ballad with a tinge of country that shares sonic similarities to Lady Gaga's "Yoü And I". The lines "Stuck between my teeth just like a candy bar," is how Halsey describes the love she has for her partner, and even if it sounds cliché, I think it's brilliant. "929" is another favourite, which gets its title from her birthday, and it is as personal as it sounds. "929" finds Halsey examining her career and relationships, and it's hard to not hear her heart break, especially as it serves as the closing track of the album. The song has a sparseness that exists throughout the album, and it continues the trend of Halsey opening up like never before. The arguable peak of this honesty is on "More", a song dedicated to the child she never had. Due to her endometriosis, Halsey has had difficulty with pregnancy. It is truly remarkable that Halsey can use this pain in meaningful ways, and allows Ashley to bare it all.
Film has often been a source of inspiration for Halsey, and that is no exception for Manic. The Fifth Element inspired BADLANDS, Romeo + Juliet inspired hopeless fountain kingdom, and Eternal Sunshine of the Spotless Mind inspired Manic. In particular, it is Kate Winslet's character Clementine that Halsey strongly identifies with. The personality of Clementine is evident in the song of the same name, another standout on the album. However, Halsey actually includes a monologue by Winslet from the film on the song "Ashley". Listeners can easily relate Ashley to Clementine, as they both take drastic twists and turns when navigating and narrating their lives. There is also another song on the album, "killing boys", that features a sample of a cult classic, Jennifer's Body. Both the song and film examine love and femininity in a controversial way, though it is compelling in terms of Halsey's publicized personal life.
Manic comes with some speed bumps. For the most part, the latter half of the album achieves more in its runtime than the beginning, which includes Manic's second single, "Graveyard". With songs like "3am" and "Still Learning,"it's disappointing that Halsey chose "Graveyard" to promote and push to radio, as it pales in comparison to her older singles like "Nightmare". Manic's first single, "Without Me", was released back in 2018. Having it included on an album in 2020 feels like a waste of both time and space. What Halsey is proud of the most on Manic is inevitably its biggest flaw. There is a clear lack of sonic cohesion or linear storyline within the album, but with features ranging from Alanis Morissette to Dominic Fike to SUGA of BTS, this seems intentional. The three of them uncover different parts of Ashley, the person Halsey has been trying to hide. Though it does not help the listener from getting whiplash, or differentiating Ashley from Halsey. Perhaps she is trying to convey that Ashley's identity blurs these genres, but I can't help but wonder how the album could have been improved with a clearer focus.
It is comforting to know that it is Ashley in the driver's seat, and not Halsey, as it is clear that Ashley helps Halsey reach new heights. She takes us on the usual path of self-discovery for a pop album, themes of lust, love, and loss. However, through the aforementioned absence of cohesion, Halsey takes listeners on a trip full of surprises. Even with a lack of theatrics, Halsey's artistry cannot be denied. From the country fan ("You should be sad") to the rock fan ("​Alanis' Interlude"), each person that joins Halsey on her journey is guaranteed to find something for themselves along the way. With Manic, Halsey wants us to enjoy the ride. And we should trust her, as she taught us off a track on her first album, "all we do is drive".